OH6V.fi
Station interview. Radios, antennas and equipment.


Hamshack corner -

Our hamshack is located in back corner of our livingroom.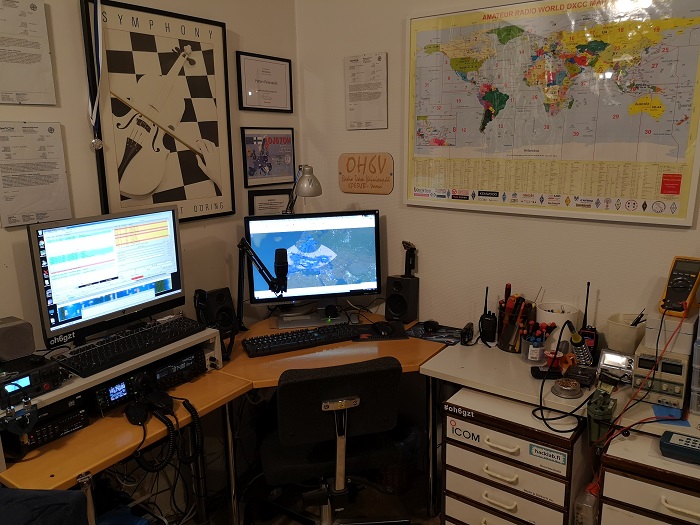 Radios

HF: Yaesu FT-450AT (main radio for HF).
VHF: Icom IC-7000 HF+V-UHF (main radio for VHF / UHF) + few different baofeng VHF/UHF portable radios.
PSU: PSU-1228.DIG 13.8V / 28A Switching power supply.
Tuners: LDG AT-200 Pro II for FT450, LDG AT-7000 for IC-7000.
Digimode interfaces: Home-made interfaces with galvanic isolating and CAT-control etc.
Other for HF: CX201 Antenna switch (to choose HF antenna between FT450 & IC-7000), Comet CF-50MR 56MHz LPF.
Receivers: Few RTL-SDR USB-sticks (generation 1 and 3).
APRS: Comarco Systems MDR150 5W RTX Dataradio + Raspberry Pi2 b+ with APRX-software.
DMR: SharkRF Openspot (legacy) + Anytone AT-D878UV with power adapter and speaker-microphone.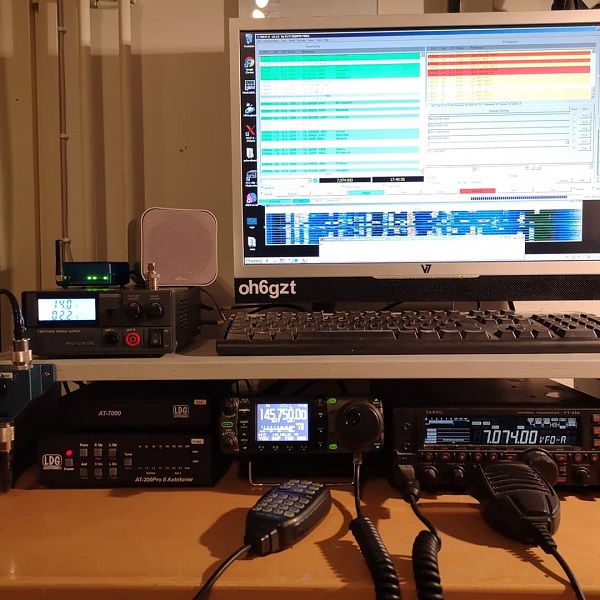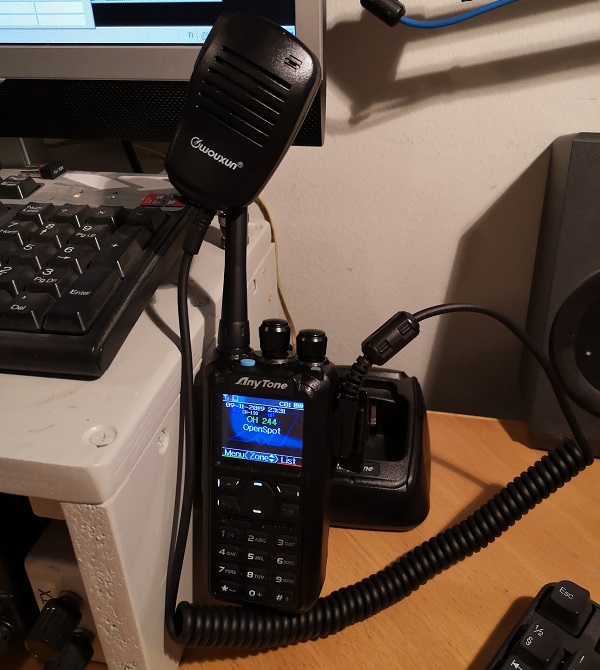 Antennas

HF

16,15m long Inverted-L wire (about 9m vertical and rest as horisontal) fed with DIY 1:9 UNUN.
Vertical section is attached in Spiderbeam Spiderpole and there is 54pcs of Ferroxcube CST19/11/12-3S4 ferrites
below 1:9 UNUN as RF-Choke. Radial network has few wires for 10, 15, 20, 30m and 1 for 40 and 80m buried under lawn.


VHF / UHF + 1090MHz

Diamond X-300N 2m/70cm vertical in 6m pole attached in backyard fence. Gain 2m: 6.5dBi, 70cm 9.0dBi.
Aerial AV1312 2m Dipole (APRS), Aerial AV195 2x Dipole for UHF (SDR RX), 1090 MHz "PCB-Dipole" (ADS-B RX)
.

HF
Inverted-L and
VHF/UHF
Diamond X-300N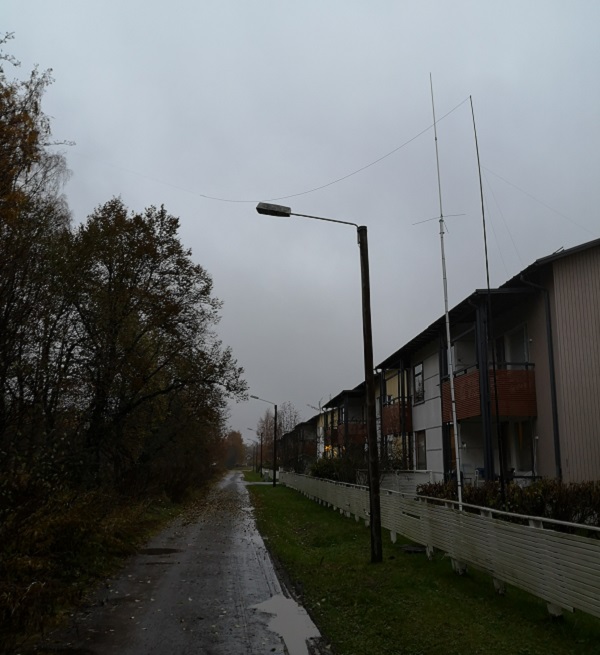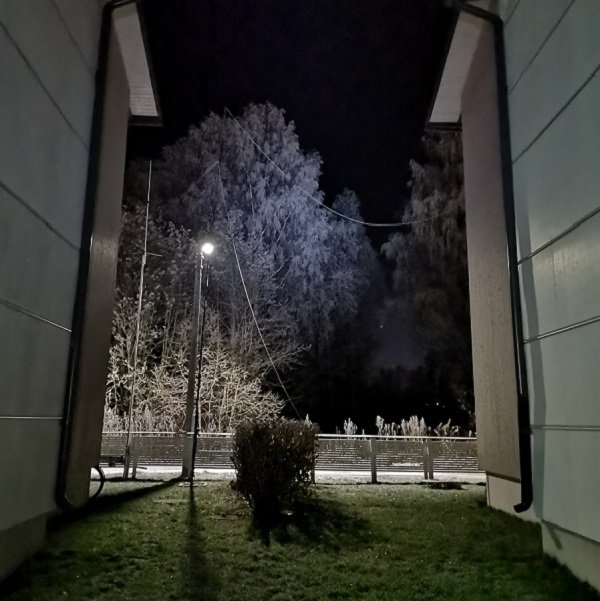 RX-Antennas
from left Aerial 2xDipole for UHF, ADS-B PCB-dipole and Aerial 2m dipole for APRS.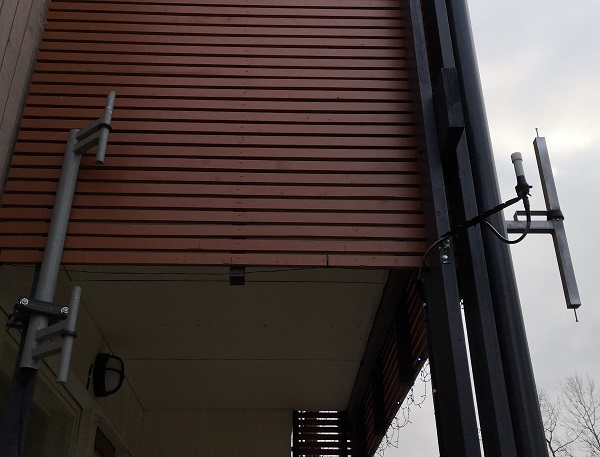 Mobile Shack


We are also often on-air from /mobile with HF- and V-UHF equipments.


Radios:
HF
: Icom IC-7000 HF+2m/70cm (for HF), with LDG AT-7000 tuner (to strech the narrow-band HF-antennas a bit).

VHF / UHF:
Kenwood TM-D-710A 2m/70cm FM+APRS TRX (aprs SSID
OH6PV-9
)

Antennas:
HF: 80m Diamond HF-80CL, 20m Diamond HF80FX, 2m/70cm Diamond NR-770.
There is still some space to install few more?. All antennas installed with fixed UHF-mounts.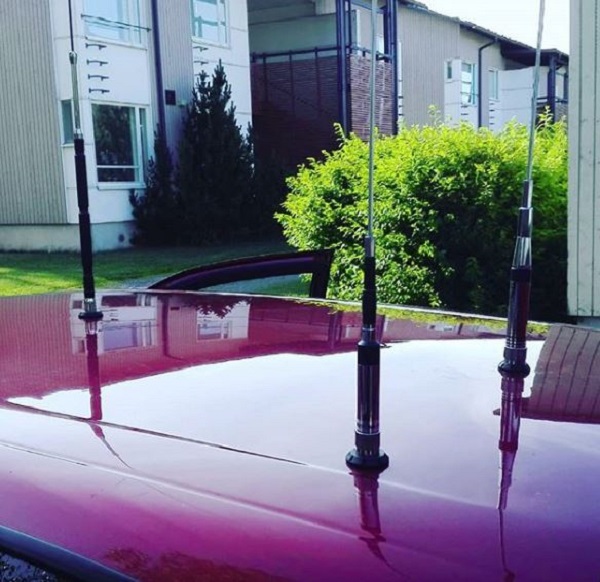 What I see behind the wheel :)